Jackson, Wyoming
Tuesday, July 20, 2021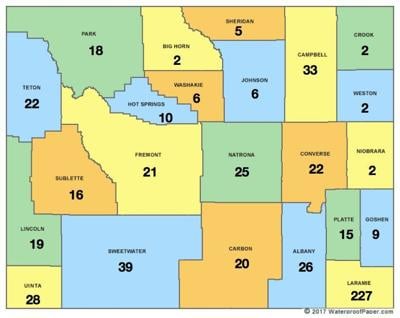 News&Guide's COVID-19 coverage provided free to the community
However, this coverage is not free to produce. Our newsroom is working long hours to provide you the news and information you need during this public health crisis. We rely on our subscribers and advertisers to underwrite our news mission. Please consider supporting our efforts by subscribing today.
Reports of more than 500 recoveries among people with laboratory-confirmed or probable coronavirus in the last week helped keep the number of active cases in Wyoming largely in check, according to state figures.
Teton and Converse counties each had 22 active cases; Fremont had 21; Carbon had 20; Lincoln had 19; Park had 18; Sublette had 16; Platte had 15; Hot Springs had 10; Goshen had nine; Johnson and Washakie had six; Sheridan had five, and Big Horn, Crook, Niobrara and Weston all had two active cases.
Active cases are determined by adding the total confirmed and probable coronavirus cases diagnosed since the illness first surfaced in Wyoming on March 2020, subtracting the number of recoveries during the same period among patients with both confirmed and probable cases and taking into account the number of deaths attributed to the illness.
New confirmed cases were reported in every county during the week, with Laramie County having the highest number of new cases at 170, followed by Albany County with 31.
Topics
Developing and Breaking News
Entertainment
Sports
Today In Jackson