The conservative-majority Supreme Court halted the Biden administration's vaccine mandate to require employees of large private businesses to wear masks on the job, get vaccinated or be tested regularly for COVID-19, concluding that the administration "overstepped" its authority. The Occupational Safety and Health Administration had estimated the mandate would saved 6,500 lives and prevented 250,000 hospitalizations over a period of six months.
Three liberal justices dissented and wrote that the court was "overreaching by substituting its judgment for that of health experts." At the same time, the court allowed the administration's vaccine mandate for health care workers in facilities that receive Medicare or Medicaid to move forward.
Meanwhile, health officials in Washington continue to report record COVID-19 hospitalizations, largely driven by omicron. Hospitals are struggling with high rates of hospitalizations, staff shortages and scarce testing supplies. The Washington National Guard will help staff hospitals and testing sites across the state in an effort to ease stresses on the health care system.
We're updating this page with the latest news about the COVID-19 pandemic and its effects on the Seattle area, the U.S. and the world. Click here to see previous days' live updates and all our other coronavirus coverage, and here to see how we track the daily spread across Washington.
Navigating the pandemic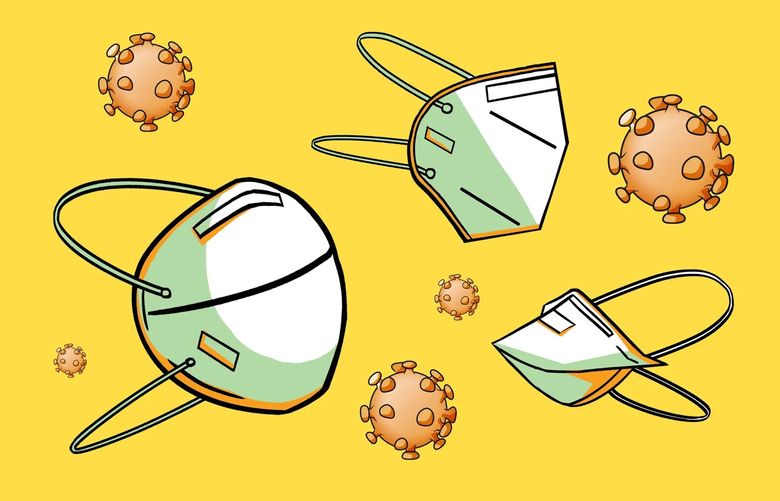 WA hospital workers filed record number of workplace safety complaints last year, unions say
Washington hospital workers filed a record number of workplace safety complaints last year, the state's health care unions reported Thursday — another reminder of the exhaustion and burnout nurses, technicians, therapists, aides and other health care staff have struggled with during the pandemic.
The complaints add to ongoing tensions between many hospital leaders and their staff, who for months have said they don't get enough support from their employers. They have called on hospitals to do more, particularly around overtime policies and financial aid.
Hospitals, meanwhile, acknowledge the state is barreling toward a health care crisis made worse by short staffing, delayed care and a recent spike in COVID-19 hospitalizations as the omicron variant takes hold in the region. But many have been slow, or unresponsive, to address their workers' demands, unions say.
"The crisis was bad with delta. It's even worse with omicron," Jane Hopkins, vice president of SEIU Healthcare 1199NW and former Harborview Medical Center nurse, said in an interview Thursday. "Morale is low — lowest it's ever been."
In 2021, hospital workers — represented by UFCW 21, SEIU Healthcare 1199NW and the Washington State Nurses Association — filed more than 8,600 workplace safety complaints, according to the three labor unions.
—Elise Takahama
Federal testing website launches next week, 4 tests per home
The federal website where Americans can request free COVID-19 tests will begin accepting orders on Wednesday as the White House looks to address nationwide shortages, but supplies will be limited to just four free tests per home.
Starting on Jan. 19, the website COVIDTests.gov will provide tests at no cost, including no shipping fee, the White House announced Friday.
As he faced criticism for low inventory and long lines for testing, President Joe Biden announced last month that the U.S. would purchase 500 million at-home tests to launch the program and on Thursday the president announced that he was doubling the order to 1 billion tests.
But Americans shouldn't expect a rapid turn-around on the orders and they will have to plan ahead and request the tests well before they meet federal guidelines for when to use a test.
The White House said "tests will typically ship within 7-12 days of ordering" through the U.S. Postal Service, which reports shipping times of 1-3 days for its first-class package service in the continental United States.
—Zeke Miller, The Associated Press
Garbage and recyclables pile up as omicron takes its toll
The omicron variant is sickening so many sanitation workers around the U.S. that some cities have had to delay or suspend garbage or recycling pickup, angering residents shocked that governments can't perform this most basic of functions.
The slowdowns have caused recycling bins full of Christmas gift boxes and wrapping paper to languish on Nashville curbs, trash bags to pile up on Philadelphia streets, and uncollected yard waste — grass clippings, leaves, branches — to block sidewalks in Atlanta.
Cities including Atlanta, Nashville and Louisville are so shorthanded they have temporarily stopped collecting things like recyclable bottles, cans, paper and plastic, yard waste or oversized junk to focus on the grosser, smellier stuff.
The garbage crisis is actually the third of the pandemic. The first happened in the spring of 2020, when COVID-19 took hold in the U.S. Problems arose again as the delta variant spiked over the summer.
—Travis Loller, The Associated Press
Treasury: Arizona risks relief funds over anti-mandate rules
The Biden administration is threatening to recoup COVID-19 relief funds sent to Arizona over state provisions that it says discourage families and school districts from following federal guidance recommending face coverings in schools.
At issue are two state programs that are meant to help schools and students but that direct funding away from jurisdictions with mask requirements. Arizona's Education Plus-Up Grant Program provides $163 million in funding to schools, but districts that require face coverings are ineligible. And its COVID-19 Educational Recovery Benefit Program provides for up to $7,000 for parents if their child's school requires face coverings or quarantines after exposure. It lets parents use the money for private school tuition or other education costs and its design mirrors the state's existing school voucher program.
The program has had few takers, despite Republican Gov. Doug Ducey's office touting it as a response to an outcry from parents. As of last week, only 85 students were getting the vouchers and less than $600,000 of the $10 million had been allocated.
Also last week, the governor created a third program that is likely to run afoul of Treasury Department spending rules. It is another $10 million school voucher program for parents whose children's schools close for even one day after Jan. 2 due to COVID-19.
—The Associated Press
In vaccination battles, pro athletes become proxy players
The pandemic-era saga of tennis star Novak Djokovic in Australia this week is but one of many: Pro athletes who have refused to be vaccinated have been put at center court in a larger contest — as famous faces who are becoming proxy players in the accelerating worldwide cultural battles over COVID jabs.
The NBA's Kyrie Irving missed the first months of the Brooklyn Nets' season before making a partial return. The NFL's Aaron Rodgers went from revered veteran to polarizing figure. And we're still not finished with the diplomatic standoff and fallout over Djokovic's exemption to play in the Australian Open.
It's a cultural issue, not a question of numbers. The vast majority of players in professional sports organizations are vaccinated — more than the U.S. population at large — and tacitly or explicitly accept the evidence of their safety and efficacy. But the handful of high-profile objectors represent a new front in what one expert calls the "oversized role of sports" in society's conversations.
Their centrality is not necessarily because they are exceptional, but because they serve as avatars for all of us.
And in that sense, they are subject to the same information and misinformation — the same receptiveness or stubbornness — as the rest of the population.
"We live in a world where we've moved really far away from a central set of facts," Lebowitz says. "None of these athletes are impervious to all the information that's coming at them around the world, or impervious to the divisions that we have."
—Andrew Dalton, The Associated Press
Scientists discover gene that increases risk of dying from COVID
Polish scientists have discovered a gene that they say more than doubles the risk of falling severely ill with, or even dying from Covid-19.
The Health Ministry in Warsaw expects the discovery to help identify people who are most at risk from the disease, which has already killed more than 100,000 people in Poland alone. It also plans to include genetic tests when it screens patients for potential Covid-19 infections as soon as the end of June.
The research from the Medical University of Bialystok estimates that the gene could be present in about 14% of the Polish population, compared with around 9% in Europe and 27% in India. It's the fourth most important factor determining the severity of the illness after age, weight and gender, it said.
The discovery may explain one of the reasons — other than vaccination hesitancy — behind the country's high Covid-19 death toll. The average excess mortality during the pandemic is above 20%, one of the worst results in the European Union, Eurostat data show.
—Konrad Krasuski, Bloomberg
Anti-coronavirus measures tightened across China
China further tightened its anti-pandemic measures in Beijing and across the country on Friday as scattered outbreaks continued ahead of the opening of the Winter Olympics in a little over two weeks.
The actions appear to reflect nervousness about a possible surge in cases ahead of the Beijing Games.
Beijing has ordered children at international schools to be tested starting next week and is barring air passengers who transited via a third point. Citizens are being told only to travel if absolutely necessary, with no guarantee they will be permitted to return if found to have visited a city or region where an outbreak occurred.
The city of Tianjin, about an hour from the capital, has ordered a third round of mass testing starting Saturday morning to be completed within 24 hours.
—The Associated Press
Thousands gather at Hindu festival in India as virus surges
—Biswajeet Banerjee, The Associated Press
German med students praised for standing up to protesters
German officials have praised a group of medical students who held a silent vigil outside a hospital in Dresden late Thursday in protest against a rally by far-right vaccine skeptics.
Saxony's governor, Michael Kretschmer, thanked the students Friday on Twitter, saying they had made a "clear and important statement."
German Health Minister Karl Lauterbach told reporters in Berlin that the student's call for people to get vaccinated against COVID-19 had his "emphatic support."
Lauterbach said it was "disturbing" that some of the medical students reportedly face fines after police singled them out for allegedly breaching pandemic restrictions, but added that he didn't have enough information to properly assess what had happened.
Germany's doctors association Marburger Bund expressed its "full support" for the students and called for them not to suffer any negative consequences, saying that police had halted the medics' silent protest "without any obvious reason."
Police in Saxony have regularly been accused of failing to crack down on far-right protests including those that breach pandemic rules.
3 women charged with beating airline security officer at JFK
Three women are facing federal charges of attacking an airline security worker who tried to block them from boarding a flight at New York's John F. Kennedy Airport in September because of what prosecutors say was problematic behavior, including a refusal to wear a face mask properly.
Prosecutors said in court papers that the women had ordered a total of about nine alcoholic drinks in four hours at airport bars while waiting for a delayed departure to San Juan, Puerto Rico, on Sept. 22.
When the three arrived at the departure gate, they were acting belligerent, one wouldn't wear her mask as required by federal regulation, and another appeared disoriented and was having trouble walking, prosecutors said.
When airline crew told the women they could not board the plane, one hit the security officer in the head with his two-way radio, another punched a gate agent in the face, and the third stepped on the security officer's face as all three kicked and hit him after he fell to the floor, prosecutors allege.
—The Associated Press
Djokovic faces deportation as Australia revokes visa again
Novak Djokovic faces deportation again after the Australian government revoked his visa for a second time, the latest twist in the ongoing saga over whether the No. 1-ranked tennis player will be allowed to compete in the Australian Open despite being unvaccinated for COVID-19.
Immigration Minister Alex Hawke said Friday he used his ministerial discretion to cancel the 34-year-old Serb's visa on public interest grounds — just three days before play begins at the Australian Open, where Djokovic has won a record nine of his 20 Grand Slam titles.
Djokovic's lawyers were expected to appeal at the Federal Circuit and Family Court, which they already successfully did last week on procedural grounds after his visa was first canceled when he landed at a Melbourne airport.
Deportation from Australia usually leads to a three-year ban on returning to the country. That would make Djokovic 37 the next time he would be allowed to compete at the Australian Open.
—Rod McGuirk and John Pye, The Associated Press
Facing dire staff shortages, some U.S. schools are asking parents to step in
Some schools desperate for substitute teachers and other staff are turning to an unusual group of candidates: parents.
At Austin Jewish Academy, Principal Chris Aguero said he is relying exclusively on parents to fill in as teachers call out sick during the latest surge in coronavirus cases and as the pool of substitutes dries up.
"It's people reprioritizing what they want to do with their time," Aguero said. "So if they're not afraid to be in a building full of children, then they have to decide, is this how they want to spend their time?"
The Texas school isn't alone.
— Marisa Iati, The Washington Post
Washington hospitals in 'worst situation' since COVID began, official warns
COVID-19 hospitalizations continue to jump to record levels in Washington as the omicron variant makes its way across the state — a concerning trend as the region's short supply of health care workers is also becoming infected, testing supplies are running low and medical procedures continue to be postponed or canceled.
"This is the worst situation [that] hospitals in Washington state have been in compared to any prior point in the pandemic," Taya Briley, vice president of the Washington State Hospital Association, said in a Thursday news conference.
As of Thursday, COVID hospitalizations had hit an average of about 1,800 in the past week, exceeding the state's past high of about 1,700 hospitalizations per week in mid-September. Of those, about 149 patients are on ventilators — a 16% increase since last week, Briley said.
In King County, coronavirus infections and hospitalizations have continued to rise to record numbers as the omicron variant persists. On Thursday, Public Health — Seattle & King County reported a daily average of 5,896 new cases and 63 daily hospitalizations.
—Elise Takahama
Catch up on the past 24 hours
Gov. Jay Inslee is deploying the National Guard to help at Washington's overwhelmed hospitals and COVID-19 testing sites. He's also asking for help from anyone who can aid with vaccinations, testing or hospital work. But that won't solve deep long-term problems; complaints filed by Washington hospital workers have more than tripled since 2019, unions say.
Now it's up to large companies to decide on vaccine mandates for their workers. The Supreme Court yesterday halted a requirement by President Joe Biden that would have affected more than 80 million workers, leaving many businesses to chart their own path through a tangle of safety concerns and staffing shortages. Here's what we know so far about their plans.
King County jails need to shut down and quarantine everyone for two weeks, the head of the corrections union warned yesterday, citing a huge surge in coronavirus cases there. The county says that can't happen, but its prosecutors are looking at making changes.
Unvaccinated women with COVID-19 are more likely to lose their babies through stillbirth or during the first month of life, researchers in Scotland reported yesterday.
The Marine Corps has become the first military branch to grant religious exemptions from the Pentagon's vaccine mandate. It's also the branch with the biggest number of holdouts against vaccines.
A COVID patient spent 322 days on a ventilator, unable to speak for months as she battled one setback after another. Then she learned her father had died — and it lit a fire under her. At last, Gwen Starkey has good news.
—Kris Higginson