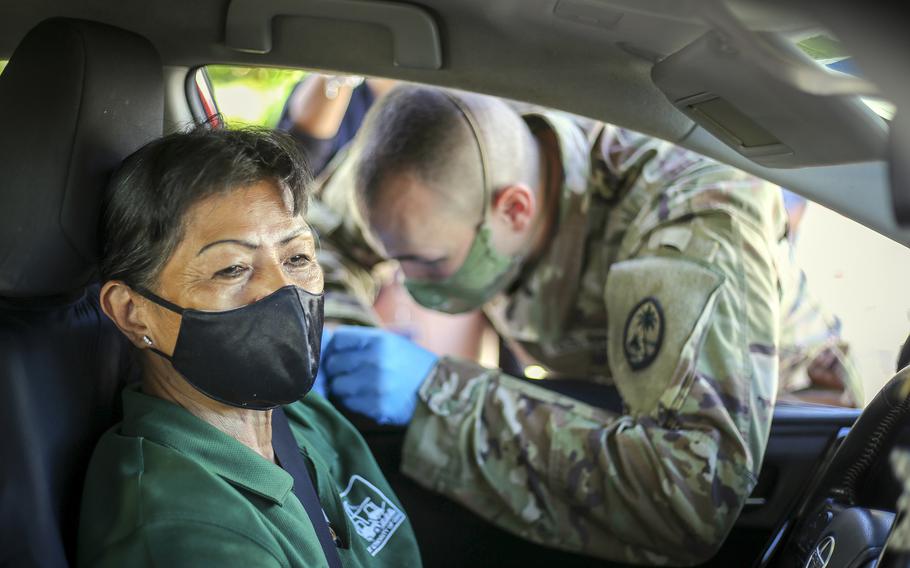 Spc. Michael Marsh of the Guam National Guard gives a COVID-19 vaccination shot to a member of the community at Guam's Port Authority in Piti, June 2, 2021. (Mark Scott/Guam National Guard)
Guam's governor over the weekend relaxed certain COVID-19 restrictions for unvaccinated diners, large groups and travelers as the U.S. island territory moves toward some semblance of pre-pandemic normalcy.
Gov. Lou Leon Guerrero made the changes Friday by executive order, and they went into effect Saturday morning.
"We are not here today to call victory from this virus," she said at a remote press conference Friday over Zoom where she announced the changes. "We can, however, begin to loosen our grip on the restrictions we put in place at the peak of this third surge by moving towards a responsible and gradual easing of restrictions."
The order provides unvaccinated customers access to outdoor dining and bars. Proof of vaccination is still required for indoor dining.
Limits on social gatherings are expanded to 25 people indoors and 75 outdoors, regardless of their vaccination status, the order states. That is up from 10 indoors and 25 outdoors under previous guidance.
"Due to the enhanced risk of infection to unvaccinated individuals, groups are encouraged to limit social gatherings to vaccinated individuals," the order states.
Incoming travelers with proof of vaccination or a negative polymerase chain reaction (PCR) or antigen tests are now exempt from quarantine, the order states.
Guerrero said she made the changes after consulting with medical professionals and public health officials. The moves align with the Nov. 8 federal mandate, her spokeswoman, Krystal Paco-San Agustin, wrote in an email to Stars and Stripes on Monday.
"Although the fight is far from over, today we recognize the progress we've made," Guerrero said during the press conference. "We are encouraged by the continued downward trend in this third wave. Today, we are reporting fewer COVID hospitalizations, fewer COVID cases and fewer COVID related deaths."
Daily cases on the island have fallen in recent weeks from a peak of 362 on Oct. 7, the World Health Organization reported. Twenty-three cases were reported Monday, according to statement that day from Guam's Joint Information Center.
Thus far, the island has confirmed 19,092 cases of the coronavirus and 263 related deaths.
Approximately 125,000 Guamanians are vaccinated against the COVID-19 respiratory disease; approximately 16,000 more are eligible but remain unvaccinated, the Joint Information Center statement said.
Andersen Air Force Base's 36th Wing began vaccinating children ages 5-11 on Nov. 16, according to a post on the base's Facebook page.
Paco-San Agustin said the administration was feeling "very optimistic" about its position in the fight against the pandemic.
"With a high vaccination rate, robust COVID testing, and monoclonal antibody treatments available for those who have the virus," Paco-San Agustin said, "we have made incredible progress."
Subscribe to Stars and Stripes
Just 99c a week!
Subscribe